This Gothic black corset top has a tie at the back and is made of two layers of fabric. When it comes to comfort, you can rest assured that it has a plastic frame for support. This Gothic corset top is designed to create a fabulous hourglass look for an alternative look for a night out. Know it, take it with you!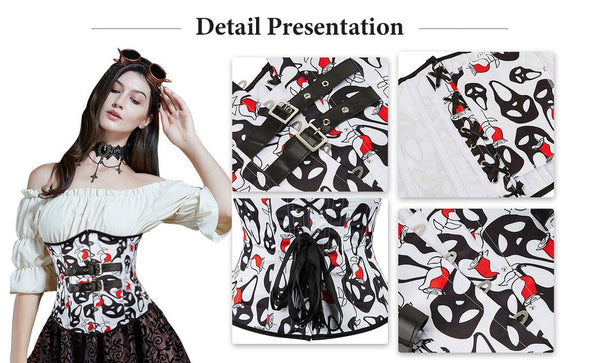 Gothic Underbust Corset Top Features:

Corset Color:
Black and white, skull style
Corset Style:
Black satin corset top with pockets on the side.

Adjustable structured corset with criss-cross lacing on the back.
How to Find Your Perfect Size of The Gothic Underbust Corset?
The underbust corset top is designed by waist size. Please choose your corset top according to your waistline. And below is a size measurement chart for this goth corset top for your reference.
Four Steps to Wear A Black And White Corset Top:
Anxious because you don't know how to wear it? Or does it take a lot of your time to put it on? These are all very easy problems to solve. We use pictures to show you how to put on this black gothic corset top quickly and logically.

Our Delivery Country
We are proud to have our Gothic corset outfits in nearly 60 countries around the world. We have received the most sincere comments as well as the friendliest suggestions from our customers. Meet Costumes offers you free shipping and the fastest shipping available. And the most important thing is that we will expedite the order for you for free. What are you waiting for, join us!
About Us
Meet Costumes is a trusted online fashion shop that stocks high-quality, affordable underbust Goth corset costumes and other Halloween costumes.
To view other styles or colors, click on (Meet Costumes).
We are happy to answer any questions you may have after placing your order.